Clyde Guide 2021:

a free resource for Scottish students
Our team of Scottish Oxford and Cambridge students is putting together a handy guide for prospective applicants, teachers and parents.

The Clyde Guide will have the most up-to-date information for 2021 including all the most common myths debunked. You'll find information about financial support, outreach programmes open to you and advice from previous applicants.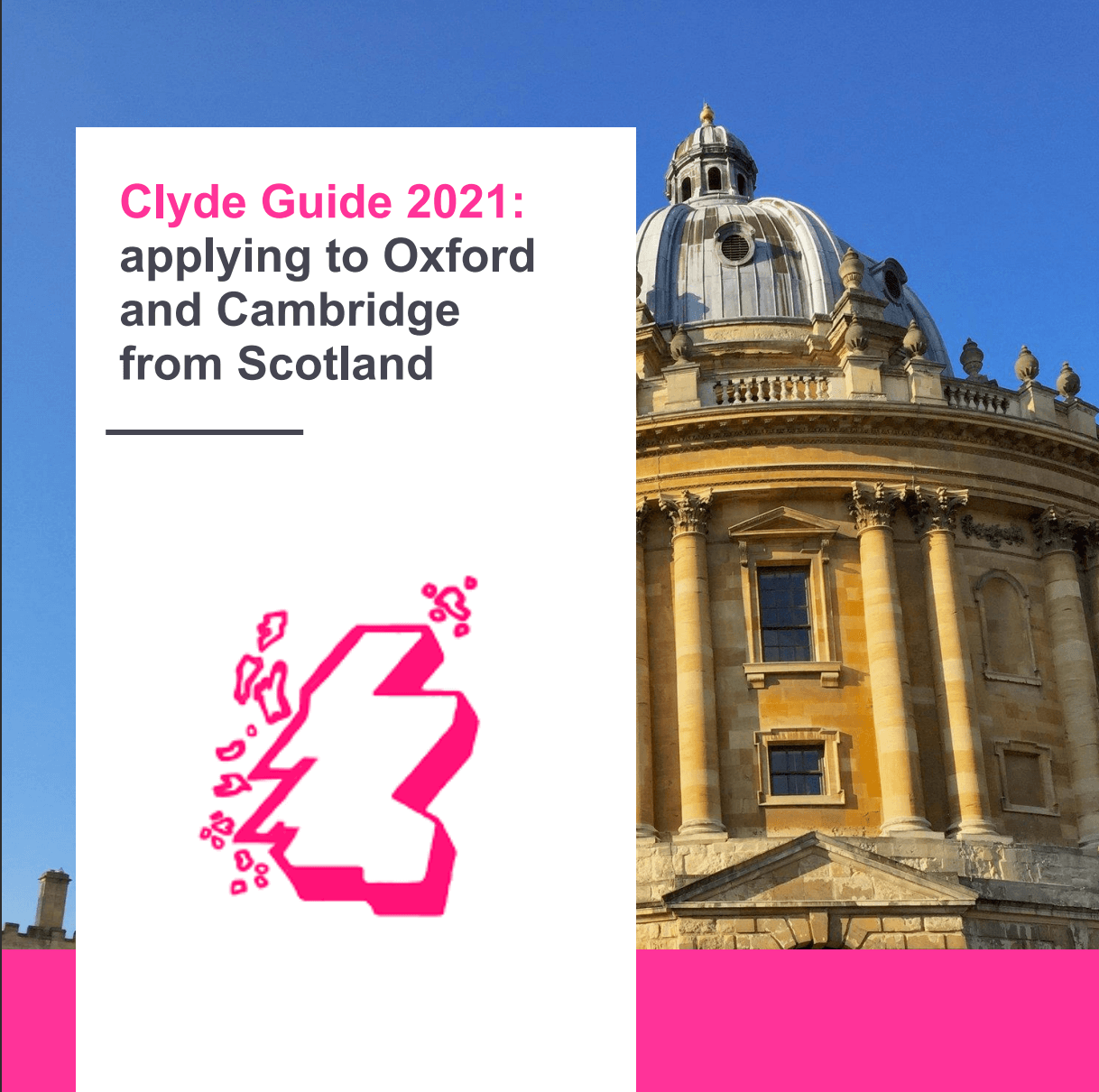 ---
Upcoming dates
•
January 2021
: UNIQ applications open for 2021 applicants. UNIQ is a free summer residential for S5 state school pupils.
See more information here
---
For teachers:
• Writing a reference for Scottish applicants:
see more information here
.
• Teacher Summer School, free to attend – closed this year due to coronavirus:
see more information here
• Regional Teacher Conferences, completely free, applications for next year not open yet:
see more information here
• Sign up to Oxford University teachers' newsletter:
see more information here
• Inspirational Teachers Award:
see more information here
• Homerton College Cambridge teachers link schools newsletter:
see more information here
• Cambridge University Teachers' and Advisers Conference, Webinar Series, closed for 2020:
see more information here
---
Oxford University
• UNIQ, free summer residential for S5 state school pupils, applications close ~27th January:
see more information here
• Virtual Open Day:
see more information here
• College Open Days pre-recorded content:
see more information here
• Department Open Days pre-recorded content:
see more information here
• Opportunity Oxford, if you are eligible you will automatically be considered for a place through UCAS:
see more information here
• Foundation Oxford:
see more information here
• Oxford Pathways, free events in Oxford for state schools, events for S3-S6 students:
see more information here
• Oxford SU Target Schools, shadowing days for S5 pupils:
see more information here
Exeter College
• East Lothian Summer School for twelve S3 pupils to live at the college for one-week with all expenses paid:
see more information here
• Essay Writing Competition – first prize £100 Amazon voucher, open to S3, S4, S5, S6 pupils:
see more information here
Magdalen College
• Law at Magdalen Residential 2020 12 Aug to 14 Aug 2020, applications now closed:
see more information here
• Magdalen Preparing for Oxford Resource Pack:
see more information here
Herford College
• Reboot Camp 26 Aug 2020 – 28 August 2020 – support sessions applying to Oxford online open to new S6 students:
see more information here
Lady Margaret Hall
• LMH Foundation Year:
see more information here
• Summer programmes – courses online:
see more information here
St Benet's Hall
• Essay prizes for students ages 11-18:
see more information here
St Peter's College
• Summer Study Residentials:
see more information here
Trinity College
• Online Recorded and Live Outreach Sessions:
see more information here
-
Worcester College
• Application Preparation Days, free digital support days for Oxford applications 24-28
th
August 2020:
see more information here
• Worcester The Bookshelf:
see more information here
• Programme supporting BAME applicants to Oxford University, free:
see more information here
---
Cambridge University
Homerton and Pembroke are Scotland's Cambridge link colleges
• Cambridge Applicant Support Programme, webinars, live Q&As, admissions support, mentorship from Cambridge students, academic tutoring, applications now closed:
see more information here
• UCAS Exhibitions, in various locations across the UK, including Scotland:
see more information here
Homerton College
• Scottish Easter Residential, open to S4 students, stay in college for 5 days:
see more information here
• Homerton Shadow Scheme, stay in college for two nights, paired with a mentor who you shadow in Cambridge:
see more information here
• Homerton College Summer Access Course, run online across August and September:
see more information here
Pembroke College
• Year 12 (S5) BAME Access Day, applications for 2020 now closed:
see more information here
• Information Seminars in Scotland; Interview Seminars; Schools Tour:
see more information here
Peterhouse
• Free residential for S5 students, two nights:
see more information here
Trinity College
• Residentials for S6 students:
see more information here
---
Related programmes
• Sutton Trust UK Summer Schools, free summer educational experiences at UK universities, including Cambridge:
see more information here
• InsideUni Guide for Scottish Applicants:
see more information here
• Target Oxbridge, free programme for state school students with Afro-Caribbean heritage, open to S5 students:
see more information here
• Oxford and Cambridge Collaborative Outreach Network: official project between both universities:
see more information here
• Oxford and Cambridge Student Conferences Online Sessions:
see more information here
---
Alternative prospectuses
• Oxford University Student Union:
apply.oxfordsu.org
• Apply to Cambridge:
applytocambridge.com
---
Twitter
• Oxford UG Admissions:
@OxOutreach
• Cambridge Admissions:
@BeCambridge